How our ITSM solution iTop is a core element of our organisation
When you join Combodo this is something that strikes you.

Our solution iTop is in the middle of the organisation, not only as the product we sell and deliver to our customers, partners or community. but also as our corporate software.

Let me show you few examples of iTop as Swiss knife inside our organization.
How using iTop internally is valuable for everybody
Combodo is structured and organised around its own customized version of iTop, our ITSM and CMDB solution. Most of the teams such as Engineering, support, sales, etc. use it on a daily basis and rely on its software.
And this specific instance of iTop that drives the company is usually the first one to be upgraded with the latest release (apart from community early adopters), and we get stucked by our own regressions as well…. we are both developers and beta testers. What a chance!
Our team believes in iTop and tends to enhance it as much as they use it. As long as the product is good why not benefiting from your own productivity and efficiency? Many software companies have such a good practice.
And as a consequence, using our own product as our main tool is also valuable for our customers.
As an R&D engineer you face the features you designed in real life and tend to enhance them and learn from your own mistakes. On the other hand if you focus only on this exotical version of the product it can mislead your vision of how your customers use it. Fortunately our support teams are here to counterbalance it thanks to the customers' and partners' tickets and requests. It completes our knowledge of the ecosystem and also on the complexity of the product…
iTop SaaS is in the game
Recently we launched iTop SaaS offer. The aim of this project is to deliver an hosted and ready-to-use iTop from the internet. And as you can imagine, we decided to apply the same kind of internal organisation for this new offer. So no surprise if there are some versions of iTop in the scope of this project!
In fact, SaaS project was started with the idea of using what we know the most as well. On a daily basis.
Today iTop SaaS is in the production 24h/7, and behind the scene there are three different kinds of our software that make the architecture work live:
SaaS core product: a dedicated customized full version of iTop for customers. each of them have almost full access to the installed software they ordered (freemium).
our frontend: an iTop to handle the registration, the customer support (what we call ticketing) and our FAQs
our backend: a customized version of iTop to handle orchestration (CMDB kind) and perform infrastructure management and monitoring…. thanks to this component, we manage everything asynchronously and have more flexibility in our design.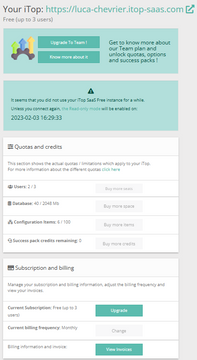 And of course working on iTop SaaS solution also benefits to iTop product in general, as most of the improvements, new developments or bug fixes are integrated in future releases.
Have fun and use iTop
iTop is such an easy and useful solution that many of Combodo colleagues customized iTop for their personal use or in their personal social lives. Indeed, you can easily customize it for different reasons.
For instance: your wine cellar (typical french 🍷), the apartments you rent, manage your tennis club or an association, …
There are other examples from our community as well. If you want to discover them and share with them, you can subscribe to our Forum or search for their project on GitHub, as we have many contributors and community users.