TIMS is a telecom and IT services operator with over 34 years of experience. Using iTop Community (the free edition of the solution) for about ten years, the company recently decided to upgrade to iTop Professional to enhance its ITSM capabilities, provide teams with more extensive possibilities to gain in productivity, and accelerate the availability of "business" features expected internally.
ITSM at the heart of the information system
As shown in the attached map, ITSM plays a central role in the TIMS ACTIVITY. It constitutes the central core of the company's production tools. The exchanges between the business applications in place and iTop are numerous, and can go both ways. The TIMS IT environment is rich; the tools must communicate perfectly to ensure productivity and performance of the teams.
iTop solution was deployed about ten years ago (in community mode), to optimize the Service Management part of TIMS via ticketing, the common repository (CMDB), deployment monitoring and intervention planning. This environment is constantly the subject of integration projects and functional improvements to keep up with the services provided by TIMS.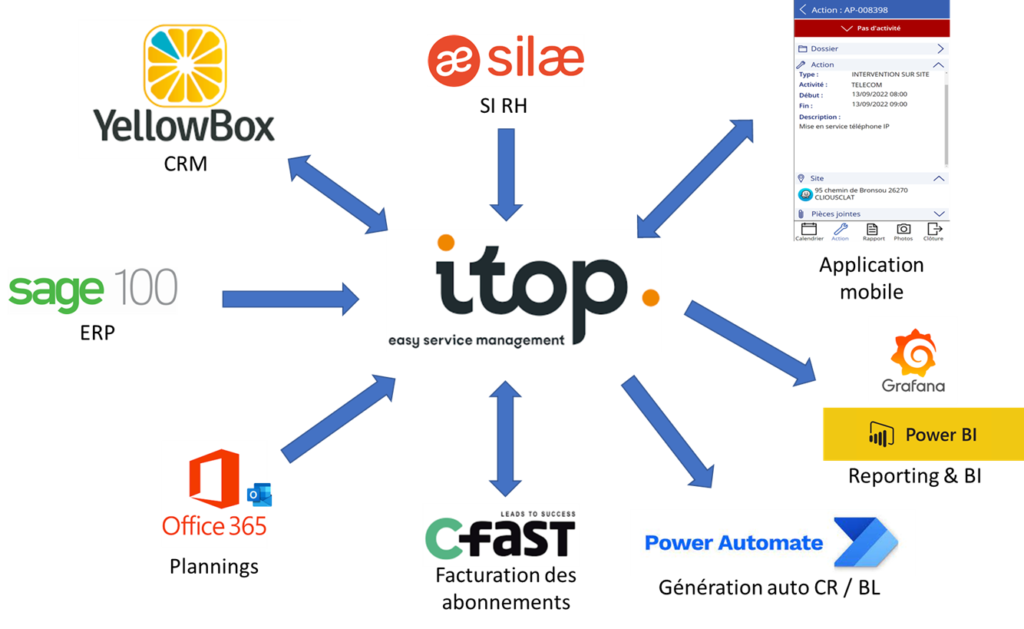 Developments to be optimized
Before making the decision to migrate to iTop Professional, Denis Perotto, CEO of TIMS, noticed his team was not satisfied regarding the time required to develop functionalities in iTop.
Indeed, developers were often mobilized for adaptations of the tool's data model, for which they were had to use XML language, with which evolutions are sometimes difficult to follow (necessary verifications between each version). These dull and repetitive tasks kept developers away from more strategic and fulfilling work.
On the other hand, the business teams were showing signs of impatience often related to iterations judged too long between specifications and implementations.
Finally, the user interfaces themselves were not satisfying as they were not conforming to a modern design. The heaviness of maintenance due to the systematic use of XML was the main cause. Furthermore, the business terms used according to the interfaces were heterogeneous and created confusion among users.
A situation that Denis Perotto wanted to put an end to as soon as possible, by opting for iTop Professional.
Why did TIMS choose iTop Professional ?

iTop Professional is the most complete formula of the iTop solution. It includes all the necessary elements for IT service management, advanced customization possibilities and high level support.

> Designer (Low code customization component): to enable business managers to to directly modify the structure of the business processes and to relieve developers of customizations in the ITSM so that they can focus on high-value technical architecture and implementation tasks.

> Editor's support: to guarantee premium assistance and support from our consulting team when needed and to set up co-development co-development when possible.

> Mail to ticket : to centralize and manage requests from different sources via a single interface.
With iTop Professional: productivity gains for the team
After a smooth and transparent migration for users, the benefits of iTop
Professional quickly became apparent. "It looks like you've done as much in the last three months as you did in the previous two years! " the business teams rejoiced.
With iTop Professional, a big change is felt by TIMS developers: they are now focused on the key features of iTop, not on secondary, low-value-added aspects. This has improved the pace of release. On average, the team releases new features or adjustments every week. A real leap forward for the company.
Another notable change is that managers are now involved in the design and life cycle of iTop. They now have a direct and structured influence on the product, which is beneficial for team productivity and company performance.
In addition, the migration from iTop Community to iTop Professional has also saved TIMS money. "Integrating one of our mobile applications into iTop has allowed us to save on Microsoft licenses that were previously costing us €80 per month per technician. With iTop Professional, the functional coverage is broader and we have been able to reduce the cost of our Microsoft licenses to a few euros per month", explains Denis Perotto.
Does this use case make you want to discover iTop Professional? Discover our offers or contact us without delay!